Available September 8, 2014!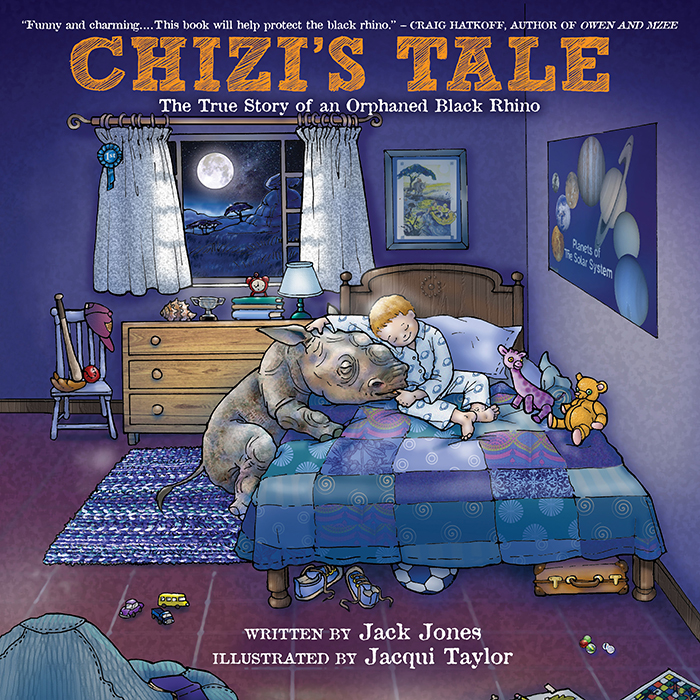 "Having a true passion for books about enchanting animals, I was delighted to read Chizi's story. It is funny and charming and delivers a powerful message. This book will raise awareness and inspire children and parents alike to take action and help protect the black rhino and the planet's other endangered species."
—CRAIG HATKOFF, author of OWEN AND MZEE
Chizi is an orphaned baby black rhino.
In order to save him, and to help protect his critically endangered species, a park reserve manager took Chizi home to raise until Chizi is mature enough to be released back into the wild.
CHIZI'S TALE is their unforgettable story.
"As the endangered black rhino fights to remain viable in the wild, I can think of no better way to help save the species than to educate children – and adults – about this wonderful animal. Chizi's Tale is an engaging and appealing book, and Jack Jones has found the right balance of fun and responsibility to tell Chizi's story. Educational and entertaining, the book teaches an important lesson and gently encourages all of us to help save our world's vanishing species through kindness and determination."
—JEFF TRANDAHL, CEO and EXECUTIVE DIRECTOR, NATIONAL FISH AND WILDLIFE FOUNDATION
"Chizi's Tale is the delightful story about a very unorthodox house pet.  Appealing to all ages, it focuses attention on the very important issue of the protection of our wildlife.  And amazingly, written by a young man who's still in high school and who has already dedicated much of his young life to the preservation of our natural world."